2011 Events



---
Join Pugs U Gotta Save....

At Winterfest 2011!

At Let's Go Pet Care!

When: Saturday, December 10th from 1:00 pm to 4:00 pm.
Bring your pet out for photos with Santa, vendors, rescues, food and beverages and Christmas Tree sales in the huge tree lot!

Location: Let's Go Pet Care
Address: 110 La Valette Ave Suite B Norfolk, Virginia 23504

Grand Illumination Nite

P.U.G.S and the Hampton Roads Pug Meet up are marching our pugs in the parade in Norfolk on November 19, 2011.. It's a really big deal here. 100,000 people watch it downtown and many more watch the live broadcast and reruns.
The parade route is about 2 miles but moves pretty fast. The theme this year is "It's a Sweet Life".

We are Pug Savers, like the life saver candy. The parade starts at 7 and we should be done by about 9.pm

Please show your support and come out and watch the pugs parade!



Recent events!

SHOP FOR PUGS

Why not start your holiday shopping early!!

When: Saturday October 22, 2011 from 1-4 pm

Where: Braxton Clubhouse in the Braxton Subdivision just off RT. 10; near 6000 block of Ironbridge Road Rt. 10, Chesterfield County, Richmond, Virginia


Please come and join us and support Pugs U Gotta Save, a pug dog rescue org. for a fund-raising fun-filled shopping event. We've set aside a wonderful autumn Saturday afternoon with multiple vendors on hand to showcase new items and merchandise all at affordable prices. And the best part is generous portions of the sales proceeds will go to benefit incoming rescue dogs. Just to name a few vendors:
Miche Bags
Pampered Chef
Silpada Jewelry
Home & Garden
Mary Kay Cosmetics
While you shop, lite refreshments will be available to "keep up your strength". So please plan on attending as it is going to be a great afternoon! And bring your friends!!!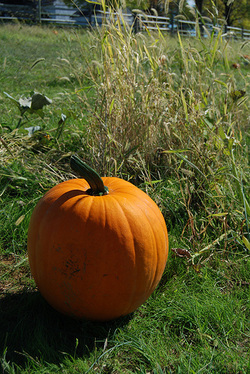 NEW UPCOMING EVENT!!!!

Pugs U Gotta Save will be at the festival!

First Landing State Park





Annual Fall Festival on Saturday, October 15th from 2 p.m. to 6 p.m



2500 Shore Drive

Virginia Beach

,

VA

23451



In honor of the opening of the new Trail Center and to promote the great outdoors, we want this year's event to be the best ever and have exhibitors and activities at the Trail Center AND the picnic area.



Enjoy natural surroundings, hay rides, pumpkin decorating, kids' crafts, roasting s'mores and special exhibits.



• Family Friendly

• Pet Friendly





D

irections:




LOCATION:

From I-64, take Northampton Blvd.-U.S. 13 North (Exit 282). Go through eight lights, then turn right at the Shore Drive/U.S. 60 exit (last exit before the Chesapeake Bay Bridge Tunnel). Take a right on Shore Drive and go four and a half miles to the park entrance. To reach the Chesapeake Bay Center, park office, camping or cabins, turn left off U.S. Rt. 60 at the stoplight and check in at the contact station. For the Trail Center, picnic area and trails, turn right instead.


Joy In Nature

Becky Ward-Morgan, Artist and Art Educator invites you to an Opening Reception on Aug. 7th from 2-3 pm at O'Bank's Cafe & Grill, 10392 Leadbetter Road, Ashland, Virginia 23005.

Show dates are: August 7-21, 2011. So come one, come all to O'Bank's Cafe & Grill, show your support for love of all animal and remember to bring a photo of your pet & order a portrait or Caricature of your pet. While there enjoy fine dining and a fun atmosphere!

Please visit Becky's website noted below for additional information on the show as well as Becky's expertise as an artist and art educator. This show represents her work and studies through Virginia Commonwealth University, her Master Thesis Exhibition.

Special night for the rescue:

August 10, 2011 from 5-7:30 pm A portion of the proceeds will go to support P.U.G.S.


Becky's website:

www.one4art-art4all.com O'Bank's Cafe & Grill website: www.obankscafe.com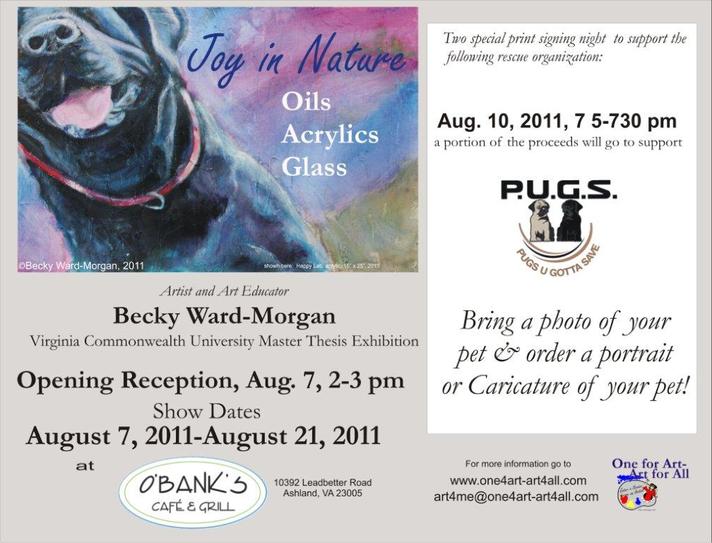 Event Schedule Change:

The Dogs Gone Swimming event originally scheduled for Saturday September 17th has been changed. Please note the new date below::
Dogs Gone Swimming.
Now scheduled for Sunday September 25, 2011
from 11-4pm
Norfolk Fitness and Wellness Center

7300 Newport Ave, Norfolk
**Come out and visit us at this event!!!**


Chesapeake's Bark in the Park
Sunday, October 2 from 12-5
Chesapeake City Park, Chesapeake
http://www.chesapeakehumane.org/BIPeventdetails.html
Hope to see everyone and meet new pug friends!!

Recent Events Held In 2011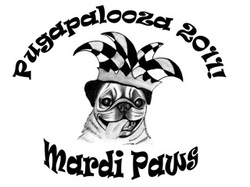 Pugapalooza 2011! Mardi Paws May 21 from 1-4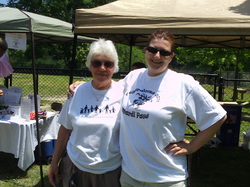 P.U.G.S. volunteer Ms. Ramsey with Mary from Civic League
P.U.G.S. thanks all our volunteers as well as the local civic league for all their hard work to ensure the event was not only a lot of fun and well-received, but very successful. It was well organized and generated much needed funds for the organization.
We all look forward to participating again next year and hope you all will join us at the Ballentine Bark Park, 2717 Tait Terrace, Norfolk, VA in May 2012!
!! We still have a few T-shirts left to sell. So please order shortly as quantities are limited! The shirts are excellent quality, all white in color, with the Pugapalooza Mardi Paws logo on the front!!
T shirts sizes currently available
Adult XLarge
Adult Large

Children Large
Children Medium
Children Small

Adult shirts are $15, Children's are $10
**please include $5.20 for priority mail postage**

Click Here to Order T-Shirts
---

Furry Friends Jubilee!

May 22, 2011 12pm to 6 pm 2460 Colony Crossing Place, Midlothian, Virginia.
Expo type community event designed to educate the public about veterinary medicine. Will cover additional topics such as training, agility, pet insurance and so much more.
Participating organizations include rescues, primary care veterinarians and animal related businesses.

Pet activities, agility courses, games, food, teddy bear repair, pet cooling stations, treats and prizes.
A day dedicated to the happiness, health and wellness of our pets.
!!!!What a fantastic fun day we all had!! Check out the pictures! Weather was great, large turnout and the best hamburger and nacho vendors ever! We want to thank the Veterinary Emergency Centers of Richmond, Virginia for allowing us to participate in the first annual event of this kind. P.U.G.S. looks forward to being part of it again next year!!!!
We also want to thank Becky Morgan-Ward for coming out and generating wonderful pet caricatures with 100% proceeds going to the rescue, Swift Creek Animal Hospital for surprising us with a special raffle and Stonehenge Veterinary Hospital for their wonderful donations.

Dog Days Of Summer

Hosted by First Landing State Park

When: Saturday, July 16th 2011
Time: 1:00 - 5:00 PM
Located at the Picnic Shelter.


Come out and enjoy a fun filled day for you, your family and your four legged best friend!

Scheduled Events:
Exhibits
Learn about cool pet services
and products for your buddy.

There will be a Fido Fashion Show!
Let your puppy strut his or her stuff on the "Canine" walk wearing the lastest!
Come early and Register.

Come hungry!
Dog Days of Summer Concessions
Providing By
First Landing State Camp Store


Location:
First Landing State Park
2500 Shore Drive
Virginia Beach, VA 23451

Pet Friendly Virginia State Parks

The shelter is in the main picnic area, which is not on the beach side of the park (on same side of Shore Drive as the Trail Center).





Summer Loves Pugs!

Fund-Raising Fashion Show
presented by
Dillard's The Style of Your Life
Special indoor event being held in the store at
Stony Point Fashion Park Location, Richmond, Virginia
July 18, 2011 6:30 pm-8:30 pm Come see fashionable outfits which will be shown by our human models: women, men and kids, as well as the pugs.

Door prizes and a Raffle drawing for a very Special Gift
Tickets $12 in advance & $15 at the door
All attendees will receive a coupon for 10% off for purchases of regular priced items in the store
Refreshments & hors d'oeuvres will be served by our volunteer "butlers". DJ spinning favorite tunes during the show!
All proceeds from ticket sales and raffle will go to the benefit of P.U.G.S.
Tickets may be purchased online by visiting our Donation page and click on the PayPal link. You may also call us at 804-491-9784 or email: pugsaved@pugsugottasave.orgLook for our flyers around town at various businesses! !!!!! And watch for us on the Richmond, Virginia, Television show: Virginia This Morning on July 14, 2011 beginning at 9:00 am on CBS channel 6 and its affiliate cable channels. We will be discussing the rescue and its mission statement. A preview of the Dillard's fashion show will also be showcased with several of our models wearing Dillard's outfits. So stay tuned !!!!!To watch the video segment below of the telecast from July 14th, just click on the PLAY arrow in the middle of the screen.
Watch the slideshow photos below for an excerpt of the show! The rescue made over $1500.00 and is so very grateful to Dillard's, WTVR-CBS channel 6 local TV station, Samantha Newcomb, Producer for Virginia This Morning show, Holiday Barn, 3-Dog Bakery, Martin's Grocery Stores, to all who volunteered to help make the show a success and especially to all who attended. Without their support the event would not have been as successful as it was....so a big Thank You! Next fashion show is scheduled for fall of 2012.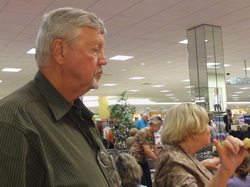 P.U.G.S. contributed "models" to partner with Petsmart to participate in the annual Woofstock fashion show held this past April 16, 2011 on Monument Avenue in Richmond Virginia. Though the weather was a bit unforgiving, it didn't damper the spirits of all in attendance!

All for the Love of Pugs


---